Posts tagged interview
Leo Allen is a renaissance man, if your understanding of renaissance man is "great stand up comedian and writer," or if it comes from the film Renaissance Man starring Danny Devito. In a way, Leo Allen is a down-on-his-luck guy turned unlikely teacher who teaches a class of rag-tag misfits about Shakespeare and in turn is taught the most important lesson of all: Life.
In a different way, Leo is an up-on-his-luck comedian who bares little resemblance to Danny Devito. I asked him some wordy, rambling, pretty okay questions and he responded with some sharp and short, or Danny Devito-esque, answers. In the end, we both inspired each other. 

Leo Allen. Your full name is Leopold Rufus Allen. That's an amazing name, especially for you, assuming you were born in 1893. If you had a son, what would you pick for a first and middle name? The same question applies for pets if you don't intend to have children (also because Leopold Rufus would be a great name for a dog).
My son's name will be Malbert Realization Allen. (I already have a gravestone picked out and engraved for him) 
A devilishly handsome young journalist covering the AltComedy Festival in MA once described you as "a charmingly casual neurotic who tellingly brought his big notebook on stage only to never use it." Maybe more accurate is to say, "a neurotically casual charmer" or "a casually charming neurotic." Do you find yourself to be neurotic at all, and at that, charmingly casual or any combination and variation thereof?
I guess I'm neurotic to some extent, but it comes in waves. And sometimes when I'm feeling most neurotic, it seems to manifest itself as what some others perceive as calmness. If it's calmness, it's calmness in the same sense that being so terrified by a ghost that you can't move or scream is calmness.
 
You're perhaps best known for your part in Just Wright with Queen Latifah, which I assume is a romantic comedy in which the Queen plays Reverend Jeremiah Wright. But some also know you as a writer for SNL at one time in your checkered history. In what way was working with Queen Latifah similar to working with Lorne Michaels? 
I actually met Queen Latifah at SNL, as she hosted twice when I was there. When I did the movie with her, she said she remembered me - as if I needed another reason to be in love with Queen Latifah.

You've done a lot in your career, and yet a third of your Wikipedia entry talks about your pledge to read 100 books in 2005, which was covered by an NPR story at which time you'd read 51. Karl Rove claimed that, among other dangerously unbelievable things, former President Bush read 51 books in 2007. How do you feel being at least as good of a reader as George Bush? What would you say to starting a book club with him?
I should probably have someone take control of my wikipedia. I'm proud to be tied with the former President, and would love to have a book club with him - let's start with "The Shock Doctrine", by Naomi Klein.

Not to dwell on the past, but I've been a fan of yours for some time, and technically the time measurement known as 'some' is over 10 years. How was New York comedy changed in the last since you started?
There are many, many more places to perform that are somewhat decent - people start their own shows is the biggest difference. A lot more people seem to be "doing comedy" in general. There was only the smallest of improv worlds, and not a lot of standup in those days either - you could do the same 17 minutes in vaudeville for your whole career!

Some say that comedians are insecure, self-deprecating people who need attention. I think it's mostly comedians who say that. Why did you start doing comedy?
I didn't know how to get a job writing, and I was determined not to have to get a real job.

You just came back from working on a new TV project in LA. Can you tell me about that?
Jon Benjamin and I made 10 episodes of a show we created called "Jon Benjamin Has A Van" for Comedy Central in which he plays a Charles Kuralt-esque reporter who travels around the country. He also does what we like to call, "street pieces". Furthermore, usually in the course of his journalistic duties, something goes awry and he finds himself on some sort of adventure, which closely adheres to the steps described in Joseph Campbell's 'Hero's Journey'.
I'm in it too, kind of the same way I'm in "Just Wright" starring Queen Latifah.

One of the comedy cliches is discussing the stereotypical differences between New York City and Los Angeles. Having just come back from a long stay in LA, can you discuss some of the most true stereotypical differences between New York and LA?
Sushi is better in LA. Apartments are bigger and cheaper there. Driving there can be a nightmare. New York is better.

You've written on a lot of shows. Did you intend stand-up to be a pathway into a writer's room? Did you have your sights set on writing for TV or was that just a bi-product of stand-up?
I did actually start doing stand-up because I wanted to be a writer and didn't know anyone. But then I liked performing and learned so much from it, and was spoiled by being my own boss. But then I started to get some jobs by fortunate happenstance/not quitting.

Which do you see yourself doing more of in the future, assuming the world doesn't end next year, or even, because it will?
I'd like to find a balance between the two. In a way, writing for TV is easier, because you have a deadline so you have to get stuff done. With standup you have to be more self-disciplined, and also book yourself out, which can be tedious. But I realize I really like being busy, so maybe I just need to stop being such a baby.

You were just on a mini tour with Eugene Mirman, Michael Showalter and Kumail Nanjiani. If crazy things happen on tours with rock stars, my logic tells me hilarous things must happen on tour with lots of comedy stars. Are there any highlights of the tour you care to share, mini though they may be?
Michael Showalter goes to bed at 10:30 pm. Kumail, Eugene, and I stayed at my ancestral home where my parents still live one night - they were away on vacation. At two in the morning, we went in the liquor cabinet and pulled out a bottle of rum that was probably purchased on the night of the moon landing. Reverting to childhood, I said, "Let's remember how full that is, so we can match it later." Eugene says, "Leo, you're 40."

We've all heard the tired opinion that "boys are funnier than girls," and that has been dispelled with the "kittens inspired by kittens" youtube video. Now we know girls are funny, and kittens trump everyone. In your act you ask the audience to decide which is funnier between two things, like Dogs Vs. Cats, and then tell them when they're wrong. I'm going to try that here on you.
Which is funnier:
-Babies or puppies? Babies.
-Babies or chubby puppies? Babies.
-Chubby baby puppies or chubby elderly cats? Neither one is funny. [Very incorrect]
-Babies with glasses or animals with glasses? Animals with glasses, obviously. [Incorrect]
-Someone getting hit with a pie in the face or someone getting hit with a fist in the balls? Pie in face [Also would've accepted pie in balls]
-A baby with glasses getting hit with a pie or an animal with glasses getting hit with a pie? Baby with glasses getting hit by pie.
-A mispronounced word or a misunderstood word? Misunderstood (but it's a case by case basis, depending on context).
-A man in women's clothes or a man in little boy's clothes (both are for comedic purposes, not pervo purposes)? Man in woman's clothes. 
Your Score:
You are… Charlotte! You play the hard-to-get good girl, but you're a tiger in the sack. The downside to your innocence? You may miss love connections because while you have a keen sense of what is funny, your lack of appreciation for how funny babies in glasses look is a big turn off to guys.
What's the most exciting thing in your immediate future (doesn't have to be comedy-related)?
I'm excited for the premiere of Jon Benjamin has a Van on June 15th and also I want to paint my kitchen yellow.
Finally, if you could eat a sandwich with any comedian living or dead, who would it be and what sandwich?
I'd eat a reuben with Paul Reubens and Jordan Rubin and enjoy how irritated they'd be by what I'd engineered. Maybe they'd be delighted!
Leo Allen made his third appearance on The Moon in our 55th show with Hannibal Buress, Adam Wade, Chris Rozzi, Dave Horwitz and Kenny Pickett. You can see Leo hosting Whiplash at the UCB Theatre every Monday night-Tuesday morning, and look out for Jon Benjamin Has A Van this summer on Comedy Central. Just Wright is available everywhere DVD and Blu-Ray are sold. 
---
For this week's interview we bring you another illuminating and inspiring dialogue from Moonkid on Moonkid, a subset of Some Pretty Okay Questions, wherein I, Jordan Clifford, Moonkid, interview another Moonkid. This week: Tim Skinner.
Tim Skinner is The Moon's chief scientific and medical expert, director of Good Parts in Cinema History, and resident cat whisperer. You can see him to the left about to shoot an adorable child with a tommy gun in front of Santa, so we know right away he is a man of simple pleasures. Good movies, good TV, good genre fiction, good complex pleasures and good answers to some pretty okay questions. 
There is a comic book named after you called Tim Skinner: Total Scumbag. Have you read this, and how did they know you were a total scumbag? 
I am aware of this comic book. I actually have one of the covers as a profile picture on Facebook. Way to do your research. As far as them knowing I'm a scumbag, I'm not sure. Maybe they saw me hanging out with you!
This presumedly biographical comic was published by Moon Face Press in 2008, which is around when you joined The Moon, and probably started being called "moon face." Do you believe this is coincidence, or do you believe in fate?
It's important not to mistake coincidence for fate. We all know that thanks to Mr. Eko. I'd say that it's more an example of synchronicity, but I might only be saying that because I like to use the word synchronicity as often as possible.

I'm going to take a quote from a review of you(r namesake's comic) and I want you to tell me your reaction and if (how) it applies to you.
"While Tim Skinner doesn't succeed on every level, [he does] get it right most of the time, with good solid art, clever humor and a surprisingly compelling lead character. It's perhaps not as deep a satire as it could be, but the comic is never less than entertaining and that's good enough."
"While Tim Skinner doesn't succeed on every level, [he does] get it right most some of the time, with good solid art, clever humor and a surprisingly compelling lead character love of bacon. It's He's perhaps not as deep in shape of a satire human as it he could be, but the comic writer is never less than entertaining and that's good enough." That's more accurate.

Sorry, I didn't mean to hold up a mirror to your life and work like that. Speaking of a compelling lead character, on The Moon you play Dr. Professor Timothy BF Skinner, PhMD. Tell me about the genesis of that amalgamation of names and why you found yourself playing a go-to scientist and knower of all things scientific and logical on a show that features so much utter nonsense. Does the character reflect your actual relationship to the show at all? 
It was Bob or Nat who came up with that name. I like "Dr. Professor" together, it sort of reminds me of "MurderDeathKill." That's from Demolition Man, I don't just think about those words together a lot. "BF" is in there because of BF Skinner, who was a real psychologist, and about whom I don't know very much. PhMD is our hilarious way of mashing up degree titles that other people take very seriously.

I first played him because I was one of three cast members, and Bob and Nat were already hosting. Since he's been around more, I sort of think of him as a tribute to Bill Nye and Beakman of Beakman's World. I like being able to include science fiction in the show, and aside from Syberpunk 2000, Dr. Professor is a good vehicle for that. I also like carrying the clipboard. As far as him reflecting my relationship to the Moon, him being a more serious person surrounded by nonsense, I think there might be something there.

When you're not playing scientists on The Moon or being a total dick to superheroes in comic books, I've been told (by you) that you're working on a fictional western. Tell me about what attracted you to a western story when "Rango" has already closed the book on and perfected the genre.
Actually most westerns are post-civil war, whereas my stories are more early to mid-1800's, not going past 1850, so I don't know what you'd call them. How about westerns, since nobody really cares about the distinction? I'm a big, big fan of genre stories like those of Dashiell Hammet, or H.P. Lovecraft, or Elmore Leonard's western stories. Those three authors are amazing. Regardless of what the genre is, I really like when stories take place in a clearly defined reality. I've always liked the idea of westerns as American mythology, and I try to write with that in mind, by taking real American history and adding fantasy to it.

So, like History text books do. Cool. As a historical fiction and western man, I assume you've watched a cocksuckin' load of Deadwood. Does your writing overuse any particular cocksuckin' curse words like those cocksuckin' motherfuckers in Deadwood?
As I write this, I'm waiting for John Warren to come to my apartment and watch Deadwood. I try to avoid that stuff as much as possible because it's different reading curse words than it is hearing them. The actors on Deadwood take something that could have gotten old real fast and make it sound like poetry. I don't think if everyone was swearing in my stories it would be quite as effective, because it would be up to each reader to make it sound right in their head, and everyone has different head-voices.

You do a segment on The Moon called Good Parts in Cinema History, a fan-favorited segment on the show that has the Moon Show Players reenact cool scenes in movies of the past, in other words. How did that become the Tim Skinner segment on the show? 
Most of us spent a lot of time watching TV and movies as kids, and I think I just spent a lot more time than others. I took charge of it early on and people enjoyed it, so it became permanent and I stayed in charge.

The scenes you pick aren't always the most iconic scenes of each cinema-show you chose; they're often seemingly picked out of a more personal nostalgia, or they reflect a more acute appreciation of that scene, or scenes that reflect an acute appreciation for the movie as a whole. They're not obscure, but they're not always the scene you'd expect. How do you pick the movies and the scenes?
For the most part the movies I choose are pretty popular – Jurassic Park, Back to the Future, The Lion King, etc. If it's not immediately obvious what movie a scene comes from, most people catch on pretty quick. If I don't think the majority of the audience has seen the movie, I try harder to pick scenes that speak for themselves, such as Network or The Warriors.
I try to find scenes that are strong enough to stand on their own. I really enjoy presenting the scenes as sort of little one-act plays. If you take a scene like the one from Casper, which is a movie I'm sure most people don't think too much about, here's this amazing scene in which a child ghost remembers, for the first time, how he died, and how it affected his father. Most movies have at least one Good Part in them. Except for City of Angels.

What was your favorite Good Part? Do you have one part to rule them all? 
My favorite scene to act was Good Will Hunting, because Kenny Pickett and I have been talking about doing that scene since like 1999. My favorite Good Part overall is probably the scene from Home Alone. [pictured above]

Have there been any good parts in cinema history that you really wanted to do but were impossible to pull off?
Not often, only because I specifically look for simple scenes with as few actors as possible. I really wanted to do a scene from Clue once, but there were just too many characters with too many lines. It's like watching an episode of Friends.

FriendsBurn! Of the Good Parts movies, who are your top 3 directors?
John McTiernan, John Carpenter, and Steven Spielberg. In that order.

What are your top 3 movies in cinema history?
Jaws, The Warriors, and The Empire Strikes Back. Now onto the next question before minutes turn to hours as I edit and re-edit that list.

When you're not playing a scientist on The Moon or writing a fantastical historial western sci-fi fiction story, or working a regular full-time job, on The Moon again doing Good Parts in Cinema History, you're doing a new video series called Tim and Lamont (which will premiere on the web next week), which is about you and your cat, Lamont, voiced by comedian Lamont Price. Tell me about that.
Tim & Lamont is basically a bunch of conversations between my cat and I. I had the idea when I was living in a shitty apartment and stayed in my room a lot, so it was just me and Lamont hanging out all the time.

Would you consider doing a live episode on The Moon with your cat, in cat-person, performing on the show before an audience?
I would, but Lamont would not.

Who would win in a fight, Lamont or another cat? 
Another cat. Lamont has been indoors since 2006. I assume he'd get his ass kicked. Unless the other cat has been indoors since 2005.

Lamont the cat or Lamont Price the comedian?
They wouldn't fight, they'd hang out.

I wanted to do this entire interview as "Good Questions From Cinema History" where I would collect some amazing and hilarious questions from movies and you'd identify the movie but also answer them as if they're real questions directed at you. I couldn't find enough good ones, but I found some. So let's try…
and now…
                              Good Questions From Cinema History!
"What's the most you have ever lost on a coin toss?"
No Country For Old Men! Usually I only use coin tosses to decide stupid things, like where to eat if I'm out with my girlfriend. So the answer would be dinner at Dallas BBQ.

"What's your favorite scary movie?"
Scream! That's not my answer tho. Halloween.

"Ever dance with the devil in the pale moonlight?"
Batman! And yes, I have.

[Ed. note: You danced with the devil? Devil's a dude. Ur gay, bro]
 
"Who's afraid of Virginia Woolf?"
That's from Bring It On Again. The answer is that nobody is.

"Do you know what happens when you fuck a stranger in the ass?"
Nope.

"You fuck my wife?"
Nope.

"You fuck my wife???"
I said no!

"You've got to ask yourself one question: 'Do I feel lucky?' Well, do ya, punk?"
That's from one of the Dirty Harry movies but I don't know which one. Probably the first. I am guided by a force much greater than luck. That's from Empire Records.

"Don't you think Jordan is the coolest?"
Space Jam.

"You seem to have it all figured out. What's the secret, Tim?"
Rushmore. I think you just have to find something you love and keep doing it. For me, that's reenacting movie scenes every two weeks.

Are there any good questions from cinema history i missed that you would have asked, that you'd ask me now?
Can you dig it?
 
Yes.
You can see Tim at every Moon show. His new webseries, Tim and Lamont, which is hilarious, will premiere this Saturday right here inside the internet. 
-Jordan Clifford
---
Elna Baker's life is literally an open book. Not literally like her life is actually a book, that is a silly thought for you to have had. I mean of course that she is a celebrated storyteller-turned-author (what a sell out) whose first book of personal essays, The New York Regional Mormon Singles Halloween Dance (Penguin, 2009), relates the universal frustration of being a single Mormon in the New York dating scene. Since the release of her book, which I assume was taken as something of a challenge for every man in New York (especially those of us who dabble in Mormonism to meet chicks), she has been attacked by an alien, worked more in radio, developed her book into a TV pilot, and taken a break from being a Mormon. I learned these things by asking her a series of pretty okay questions at a pretty okay cafe downtown. 
There are a lot of stereotypes of Mormons that have remained in the popular consciousness: all Mormons were born in Tacoma, Washington but raised in Madrid and London, or all Mormons run titanium factories in Siberia. That old story. I'm not someone who is ever stereotyped unless it's something like "all men are pigs" or "you look like a pig" or something involving pigs.
What stereotypes of Mormons do you attribute to yourself or identify with?
I'm optimistic. A lot of Mormons are very optimistic. The way the church is so much centered on progression - whether you're progressing or reaching your potential - and so much of my thought process is about "am I reaching my potential?" and that's a very Mormon way of thinking.
I feel like comedy is often a lot about both awareness and self-awareness, so… awareness. Observation. It requires a specific way of thinking that separates you from other people because you're all the time observing things for what they are and for how funny they are. Did being raised in a Mormon family in any way nurture or repress that? 
I think there are different kinds of comedy. The darker humor or even obscene humor, or the kind of comedy that was the kind that I see or appreciate more now as an adult was restricted. So in that sense I would definitely have thoughts or ideas that were a little bit darker, or dirty or whatever, and I would second guess or censor those thoughts. Part of the last few years has been allowing myself to sort of tip-toe out of that and feel comfortable enough to just boldly say whatever it is I want to say.
Did that start when you moved to NY?
I think the tip-toeing did. I think the last 2 years have been this transition from taking a break from being Mormon and exploring partying like crazy - I'm only joking - but exploring things other than following the rules, and in that regard, that changes your material if your material is about what you're experiencing, and for me it is. So I think the next phase of my work is being comfortable with talking about drinking or having sex and what happens if your parents read that or what people think about you when you're still using your life as material but your life isn't as appropriate as it used to be.
Is the act of thinking about your life in stories what makes you prepared to do more things and be more open with yourself?
I think actually I've found that I told all the stories that I told on stage or in my book came from stories I was telling my friends over and over again. And then during the year and a half period where I wrote my book I felt very stifled from having new experiences, partly because I was observing things so astutely, trying to dissect and figure out how to write it while I was having a conversation. That pulled me out of being present and made me try to shape what i was experiencing into stories, and that is not good for being able to tell the story. You only really remember things if you're present.
After my book came out there was a lot interest in me immediately writing something else, but I felt like I had to just live a little bit and make mistakes, so I've spent a good year and a half not thinking of my life as stories and just living my life. It's only been in the last few months that I've started to realize some of the things I did, that's a good story.
How has your storytelling improved? Can you think back to other stories and see improvement now?
Ira Glass and his wife, Anaheed, were both readers on my book so they helped me and gave me edits. But Anaheed especially taught me something that I do now, which is that she said, "you know, you could probably cut the last paragraph of every chapter of your book and your book would be so much better." And I did. And she was completely right. I had that English class style where it's like opening intro and three paragraphs and conclusion. So with these stories I would still, without my knowledge, tack on this stupid paragraph at the end that's like, "And so, if you weren't listening to the last 20 pages, this is what I said."
That English class style got me through a lot of English classes, I'll tell you. It has the appearance of good essay writing even if it's not, it's just full of superfluous stuff. Academia, some say.
Was editing painful?
A lot of the mistakes I made early on, like in the first draft of my book, was overwriting. I could, when it was just me typing, easily get lost in over explaining for the sake of being poetic. You realize how much better you are when you say as little as you can.
What is the scariest thing about performing?
The thing I still have yet to overcome is that I get in my own way. I would like to be fearless on stage and not be affected by the tone of the audience or the fear that they're not going to like what I have to say. I'm not fearless. Mitch Hurwitz [creator of Arrested Development] said in an interview that his entire strength was only formed based around what he was afraid he couldn't do. I think in the same sense eventually I would love to do just great stand up. I became a storyteller partly because I was afraid I couldn't do stand up, and that's what I always wanted to do.
What was the turning point a year ago that made you take a break from being Mormon?
I guess the initial thing was just finally this notion of questioning it so many times and every time I would feel like I'm questioning it because I'm not being righteous enough. That's what you're taught, that doubt comes from the desire to sin. So after going through that process of trying to recommit and recommit and push myself further in I thought, you know, I've never tried the other thing which is to take a step away and see if I still want it.
And so I did take that step. I remember when I came to this conclusion: I thought, "I'm going to start big!" I saw this bottle of whiskey, and thought "I'm going to get that bottle of whiskey and get drunk and write about what that feels like." When I got the whiskey it was pretty much empty, but I took a drink and nothing happened. 
Schwag whiskey. That's the worst. Probably all oregano. What happened when you told your parents you were drinking?
My mother started crying. And I was like, "you know I'm taking a break from being Mormon. What did you think that meant?" and my mom said, "that you weren't going to church." I got in so much trouble.
How do you deal with this as a family?
We don't talk about it. (Laughs)
[Read more for Elna telling me stories about her many experiences with aliens and alien-related movies, Heaven's Gate, Sex and the City Mormon Style and more!]
---
Brooke Van Poppelen moved to New York from Chicago five years ago and since then neither has been the same. Mostly due to the inevitable change that will happen to a city within that large amount of time, but also because New York has snatched another great comedian from Chicago's windy bosom. Speaking of windy bosoms, check out that picture of her. I asked her some pretty okay questions and she responded in kind. 
Congrats on your Best Female Stand Up nomination at this year's ECNY Awards. You have previously been nominated for Best Emerging Comic. How do you feel to finally be recognized as a female? 
I went to a lot of trouble to grow my hair out and learn how to put on make-up so I would stop being nominated as "best male comic."
In what ways do you feel you've officially emerged?
Well, now we're being recognized as "excellent" instead of "emerging" so I guess that says it all! 
Do you find it at all… shall we say… sexist that the Best Male category in any awards show is always above Best Female? 
I like being on the bottom. 
 
Very sexi…st. If you win Best Female Stand Up, are you going to go for Best Male Stand Up next year?
Well, it's useless trying to convince people that I have huge balls because I have started doing so much huge vagina material as of late.
Who is the coolest person you've opened for?
Rob Riggle, Hannibal Buress, and I loved working with Eddie Brill and Rick Overton as well as Jake Johannsen.  
Who is the coolest person who's opened for you?
Anyone who goes up before me at Puppets Mic in Park Slope—-what an awesome group of open mic-goers! 
 
Whoa, sounds like someone's a shareholder at Puppets. What brought you to New York from Chicago, and what makes you stay here - besides Magnolia Bakery on the Sex and the City tour?
I came out here for a Montreal audition 5 years ago and canceled my return flight. It was one of the most exhilarating things I have ever done. Reality of course caught up with me eventually and I had to return to Chicago to clean up some unfinished business (divorce, etc.) before I could come back properly but it's been a really tremendous 5 years in this city so far.
"Divorce, etc." is a great name for a TV show, or anything really.
Has the NYC comedy scene developed since you started here? 
I've seen a lot of transitions in 5 years but they've all been awesome. It's so cool to see people go from unknown to well-known to stars! I hope I can ride those people's coat tails! 
That phrase always makes me wish more people wore coat tails these days. Besides saying jokes in front of people, you are what the kids call a "blogger." By this I mean you write things for the internet. How has your relationship with the internet been? 
I love the intertube. It's a damnable habit but it's also responsible for keeping me employed. 
 
You blog about dumb stuff that dumb people do, like testing stab-proof vests with your friends, and hiding a chainsaw in your pants. (Presumably both those things were done to impress girls, or emergency room surgeons) What is the dumbest thing you've done recently?
I've been pretty good, but I was just trying to impress a guy the other day by telling him about my behavior at a BBQ this past summer when we ran out of buns so I shoved a char grilled Hebrew National hot dog through the center of a cream filled Krispy Creme Doughnut and ate it like that. Fucking delicious! 
If we were on Facebook I wouldn't totally Liked that.
You call your personal blog "New York Is Retarded," which is offensive to me because my family's state, Connecticut, is actually retarded. What gives you the right to call New York R*tarded, and what exactly do you mean?
I haven't touched that blog in a while. It's kind of regrettable name that I gave it back in 2007 before Jennifer Aniston was publicly shamed for using the "R" word. It's a little insensitive but the theme of the blog is about my never-ending battle me vs. NYC and how NYC usually wins. 
That concludes the "ur a blogger" portion of the questions. Back to the heart of things - you were on American Chopper. So you can probably die happy, or at least die knowing you were on American Chopper. Please tell me about that. All about it. Did you become cooler? Were forced to be a biker wench? Were you at least made queen of the bikers? 
I actually had a ton of fun hanging out with Mikey and giving him comedy pointers. He's a total riot and has a really big heart. We had a good time in the city and then I got the chance to chill with him upstate NY. He owns a really beautiful home out in the woods and we partied with some crazy biker dudes who are his dad's acquaintances. Quite the night.
The words "some crazy biker dudes" and "dad's acquaintances" need to be in more sentences in my life.
Your profile on rooftopcomedy.com says "she dares you to heckle her." Is that really something you want to be daring people? I'd rather you dare me to kiss a cute girl sitting close to me.
OH MY GOD. I wrote that in 2004. That needs to come down. Gross. 

BOOOO - that was me heckling whatever your answer is. Deal with that. 
I don't deal. I crumble under heckle pressure. 
 
Finally, can you tell me one joke that you've written that you'd never tell on stage (whether because it's not good, or because it's way too offensive, or because you wrote it when you were 8, or whatever)?
I just wrote a bunch of monologue jokes which sound weird coming out of my mouth so technically you would probably never hear me tell a joke like this even though I think it's clever:  To make extra money, this year many stylists in Manhattan split time between Fashion Week and The Westminster Dog Show. When asked how she was hired for both jobs, one stylist replied, "It's simple. I know how to make bitches look good."
Two bitches with one stone. Well done.
And finally, if you could eat a sandwich with any celebrity alive or dead, what sandwich would you eat? 
Classic Pork/Pate' Vietnamese Bahn mi 
I also love Bahn mi. I like to say "you can't ban me from Bahn Mi." Wait, I've never said that and never will. But thank for you inspiring my lunch options today. 
Brooke writes for TruTV's "Dumb as a Blog", has a tumblr and is generally present on the web. You can see her on Heart of Darkness w/ Greg Barris and more at Union Hall, Saturday March 5th and at SXSW Festival.
Brooke made her second appearance on The Moon's 52nd show with Josh Gaurino, Jared Logan and Ben Lerman. 
-Jordan Clifford
---
Kenny Effin Pickett. Little more is needed to introduce him than the middle name he bestowed upon himself. He pop punk'd his way into my heart long ago as the beat-making head rapper of the 905 Crew who unironically likes Miley Cyrus and has received more Facebook Likes from me than almost anyone else. He also dressed up as Justin Beaver for Halloween and as Lady Gaga to get on MTV. Here are some things he said in response to things I said.
Of all the people involved in The Moon, including the Phantom of The Moon, you are the most mysterious. Without giving away the mystery, why all the mystery?
First of all let me say the Phantom of The Moon is (for the most part) unmatched in his inscrutability and no one can take that away from him. As for myself, I've never considered myself all that mysterious. Or have I? That's just a little taste of mystery for you. Or is it?
On The Moon you play an anarchist time traveling syber punk from the future. How much of the character is based on autobiographical details or real events?
Syberpunk 2000 is based on Poochie from the Simpsons and former WWE Superstar X-Pac. He is also based on the fact that I totally don't give a fuck about whatever.
Despite popular belief/assumption, you did not go to Emerson College like most everyone else in The Moon, nor did you perform comedy in college. Did you ever see yourself writing and performing for a comedy show before? 
At one point in my life I was extremely interested in writing and performing comedically, albeit in the setting of a pop punk band and/or in movies that Tim Skinner [of The Moon fame] and I would make with our good friend Matt Chancey. After a while I made a conscious decision to just write songs and not perform and I don't really remember why. So I would answer your question with a "No." Also, Syberpunk told me that I get an honorary degree in media studies from Emerson College in 2032. 
Part of your life is teaching punk rock, an act that contradicts itself, to kids at a place called Power Chord Academy, which is still a thing I have trouble believing exists. Please tell me the most punk rock thing that's happened there.
There was this kid we called Hot Sauce because he would always drink hot sauce. In addition, he would often accomplish dazzling feats of strength like scaling walls and perching atop light-posts. He was also a pretty amazing bass player and the most punk rock thing that's happened anywhere. 
[Ed note: I hope Hot Sauce is reading this on his punk rock computer]
Who are your top three musical influences?
Andrew WK, Atom & His Package, and Charles Ives. 
Who are your top three wrestling influences?
Chris Jericho, Mick Foley, and Sheamus.
What song has the power to make you cry? 
"Defying Gravity" from Wicked. 
Which wrestling has the power to make you cry?
When the Miz won the WWE Championship. I mean, here's a guy who goes on the Real World so that maybe he will get famous enough to be a pro wrestler, let alone the world champion. It works and suddenly he is a joke character on WWE and everyone treats him like shit and he totally sucks. Next thing you know, he is revitalizing the tag team division with John Morrison in the new ECW. After being drafted to Raw he wins the United States Championship and the Money in the Bank contract which allowed him to defeat Randy Orton for the WWE Championship. In my book, there is nothing more powerful or moving than the achievement of the American dream. 
You're famous for your viral videos in which you Pop Punkicize pop and R&B hits and other viral vidz.  What has been your favorite song to cover Pop Punkicize? 
"So Cold In The D" by T Baby without a doubt. 
[Ed. note: Cannot locate the video of his cover. Instead enjoy this Lady Gaga cover: Poker Face]
You're also famous for being one of the world's best rap artists, and the owner of Flawless Victory records. Where does rapping fit into your life, and are there any new projects we can look forward to on the horizon? 
I'm kind of burned out on the rap game. I needed a break, but I do love rapping. I will never rule it out completely. I'm working on new music now and there will probably be some rapping involved. 
As a pop music apologist, what are your feelings on the recent upset at the Grammy Awards about less mainstream acts (Esperanza Spalding and The Arcade Fire) winning over acts like Justin Bieber?
Like myself, Esperanza Spalding studied at Berklee College of Music, so she must be great. But better than Drake? Doubtful. As for the Arcade Fire I believe my reaction was as follows: "Is this what we're doing now? Yeah, all right. Sure." But I think the biggest upset of the night was that Paul McCartney won a Grammy for "Helter Skelter". 
Can you talk about the influence of autotune on your music and by extention your life?
I wrote a song one time and the first lyric is "I emphasize my imperfections through the use of pitch correction" and I think that about sums it up. I think autotune is great in the right hands. 
[Ed. snide remark: I hope one day it falls into those hands finally]
Do you have any theories? 
Yes.
How very mysterious… Now for the Fan Questions portion. the first question is "what he would do if one day he woke up and he bret favre" [sic]
I would kill a bunch of dogs.
The second fan-submitted question is "what was it like for you to be 7?" Talk us through Kenny Pickett as a 7 year old guy.
I was seven in the year 1992. Bret Hart won the WWF Championship for the first time that year. He was my favorite and I was pretty happy about it. I was probably walking around doing that arm thing like Bret Hart just saying "the excellence of execution" over and over. And maybe "say hello to the bad guy." That one is Razor Ramon.
[Ed. note: So, about the same as you are right now. Perfect]
Watch Kenny Pickett doing what he does best here: 
Souljaboy - Kiss Me Thru The Phone (via KennyPickett)
-Jordan Clifford
---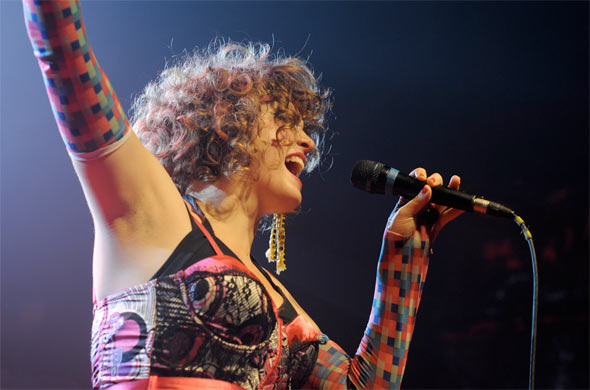 Adira Amram is what some might call a musical comedian, and what others might call a comedy dance singing person, though others still might call her indescribable. I just call her a dream. Her songs often straddle – dare I say, hump the line between comedy and performance art, between adult artist and teenage party girl. Which is to say, I identify with the themes. Fingerblasting, smoking weed with your mom, making out, being psyched. It's all there, America. 
This morning she was my Valentine's Cyberdate. Considering she probably doesn't live anywhere in my apartment, it was a lot more convenient to go on GChat than to actually meet up in person. 
Jordan: Yoo
Adira: heeeeeey
Jordan: Happy Valentine's Day. Do you have any romantic plans?
Adira: Oooh. Happy Valentines Day to you!
I'm going to take my lovely husband out for dinner tonight. I don't really care about Valentines Day but it's the kind of holiday that if you don't do anything then you feel sort of like a Scrooge!
Jordan: Scrooge would be spinning in his grave to know that even though he became a better person in the end, his name is forever known for being a dick
Adira: haha
Jordan: the guy got haunted by 3 ghosts, and people still hatin'
Adira: Especially that bitch Ghost of Christmas Present. What a bitch!
Jordan: Sad. So, Adira, you come from a musical family. Did that in some way factor into you being a musician?
Adira: I did come from a very musical family. My Dad is a composer, my older sister is a singer songwriter, my Mom is singer songwriter and my little brother is a drummer. I never really and still don't really consider myself a musician but I really enjoy making music.
Jordan: Does your family consider you a musician? At least to uphold the family name, like by default.
Adira: I'm not sure what they think, I think they might think of me as a comedian and I don't really think that of myself either. I just think I'm a comedic performer.
Jordan: Is the performance aspect of comedy more important to you than the jokes?
Adira: I think they are the same thing.
I always try to retell funny jokes I've heard at shows to my husband and it's never funny. So I think it's the same with stand ups, there is a performance that is crucial to the success of a joke, even with no song and dance. 
that was a little long-winded!
Jordan: No not at all, though I did like seeing that you were typing it 
On gchat when i see "the person is typing" i like to imagine being in person and seeing the other person's mouth move a lot but nothing come out, then all their words come out at once at the end
that was long winded and vaguely sexual
Adira: Vaguely Sexual should be your new performance name.
Jordan: haha, then it shall be.
Adira: Just like Gandolph! Make it SO!
Jordan: i'd like all my decisions to be made like Gandolph
like James Gandolphini, too. either way
Adira: maybe you can describe yourself like this "Comedian Jordan Clifford is the perfect marriage of Gandolph and James Gandolphini, some locals have even begun call his act vaguely sexual"
Jordan: "because he goes to Jersey strip clubs and demands everyone obeys his commands!" 
Adira: And for some reason he's always carrying around staph.
Jordan: hahah like anyone needs a reason
Adira: Is it spelled like that
Jordan: ill fix it in post
Adira: or is that only the infection?
Jordan: i guess it works in either sense
Adira: And he has a staph infection due to his enormous staff he carries around with him at all times
Jordan: we should be a marketing team
Adira: Aren't we already?
Jordan: we are! So how did someone who's not exactly a musician and not exactly a comedian get into musical comedy?
Adira: ha
I first started performing at open mics and small variety shows with a friend. Then he moved to LA so I decided I should try it on my own. And I slowly started to write more songs and do more shows around the city. Then I started performing at comedy shows and had so much fun that I just kept at it.
Jordan: you performed songs to start with? 
Adira: I did! I used to do some sketches too. I also took class at UCB and really loved doing improv. Improv is the greatest.
Jordan: well, let's not get crazy. Mohammed Ali is the greatest. beyond that, we have yet to determine what is the second greatest. 
what pushed you into developing a musical comedy persona and act?
Adira: I think what pushed me was all of the encouragement I got from fellow performers and audience members that seemed to like what I was doing.
I also had no expectation that anyone would like what I was doing.
Jordan: did that give you a kind of confidence? i've often found that not caring about expectations is liberating
However that same philosophy probably doesn't do me any good in professional life 
Adira: I care very much. That's why I rehearse a lot and put a lot time and energy into every moment on stage. So it's not that I don't care, I think the thing is that you have to really LOVE what you're doing on stage or it's not going to work.
The shows that usually going terribly wrong for me are the ones when I'm not loving what I'm giving the audience.
Jordan: what's been your worst show experience? 
Adira: I think that the important lesson I got from the terrible shows is that you can always turn the beat around and make it work. And there is always another show.
And EVERYONE has bad shows.
Jordan: OMG that's the best quote. 
Adira Amram says " the important lesson is that you can always turn the beat around and make it work."
Adira: I also use the term "Coming Out of the Dark" after a terribly bad show. basically Miami Sound Machine are my spirit guides
Jordan: I feel like that's their purpose
Adira: I think the challenge is when you have a really killer show and then you have to perform the next night and you have to start again.
Jordan: How so?
Adira: Because no one knows that you rocked except you. So the trap is you go on stage with the attitude that you are "Simply The Best" and the audience is like, no bitch you have to WORK!
Jordan: Yea, it's easy to rest on your laurels. especially when laurels are so damn comfortable.
I like you incorporating song quotes into your inspirational statements
Adira: Oh yes, gotta work a soundtrack into EVERYTHING!
Jordan: Believe it, giiirrl
Adira: Girl you Know it's True. 
I mean you can always Blame it on the Rain
but at the end of the day This Is How we do it
Jordan: because i think we were Born To Run
Adira: And Pump of the Jams
Jordan: even wearing our Apple Bottom Jeans
Adira: Because Fat Bottom Girls make the rocking world go round
Jordan: Dynamite
Adira: Baby, you're a firework
Jordan: Oh man, you're good. So how do you feel about the state of women in comedy in the New York scene?
Adira: I think there are a lot of really talented women and I would like to see more women get into comedy so people don't feel like having a woman on the show is like having a musical guest.
Jordan: That's anexcellent way of putting it.
Adira: I love funny. So as long as it's funny I really don't care what gender. That said, I'm all for there being more women.
Jordan: Speaking of women, let's talk about your group. The Brooklyn Dance Machine to your Miami Sound Machine.
Adira: You mean the Experience?
Jordan: How did you get involved with those ladies? 
Adira: Just to clarify, The Experience is also my backing band that I get to play with sometime too. I was putting together a show for Ars Nova and I wanted to have a backing band, because it used to just be me and my keyboard, no backing tracks or anything. VERY lo-fi.
I met Jessi "Jamz" Erian at another show and asked her for her card and said, I don't know why I need this but I do. 6 months later, I contacted her and asked her if she wanted to dance with me and if she knew anyone else and then she brought in the incredible Maresa "The Body & Soul" D'Amore-Morrison.
I try to bring the ladies everywhere I can.
Jordan: Are those their real nick names before they were in Experienced?
Adira: That came out of The Experience. But they were written on their hearts at birth.
Jordan: The Experience changes you
Adira: Jordan "Gandolph Gandolphini" Clifford
Jordan: haha, so you've read my birth certificate
Adira: that's your Experience name
Jordan: what an honor
Adira: You're the ambassador of face beards
Jordan: this chat keeps getting better and better
Adira: Totally. We need more good bearded men like yourself as Ambassadors of The Experience.It's vital to our success.
Why is this getting so LARPy?
Jordan: it was bound to happen. It's Valentine's Day, after all.
Adira Amram and The Experience will be returning to The Moon tomorrow, February 15th. You can also see them on February 18th on Party Machine at Union Hall, and on March 4th as the official house band at Night Of The Living w/Kurt Braunohler at The PIT.
Further Reading:
Some Pretty Okay Questions: Interview with Kurt Braunohler
Moonkid on Moonkid: Interview with James Beard
Moonkid on Moonkid: Interview with Camille Harris
---
James Beard is The Moon's Video Producer and Co-Prop Master. He's also known to do some acting, and literally brought down the house like Latifah playing a song by the now defunct White Stripes at the Hootenanny With The Moonkids. I sat down with him on the internet.
James Beard. You share your name with a famous person who has a giant peach. As far as I know you have no such peach. Maybe we could call you James and the Giant Beard? Tell me about your beard over the years.
We've been through thick and thin together.  My beard and I are really close now, but really we didnt meet until college. Still, it was like we had always known each other. I tend to treat my beard better than the rest of me.  Currently, though, I'm ironically clean shaven but maybe MTV will pay me to grow and cut another one someday.

What you may not know is there's another James Beard. Wikipedia tells me that "many consider him the father of American-style gourmet cooking." Let's apply that to you. Many consider James Beard the father of American-style…
Rapping.  I'm a veteran of the flow game.  Been in two mega groups, sold tens of albums, and drank a lot of 40's. 905 Crew is forever!
[Ed. note: I have a like-named celeb for myself named Jordy who many consider the father of French-style baby rapping. So, we match.]
I've found that the ads facebook provided on the side of my profile are always very telling. What are the ads currently on yours and how do they represent you as an individual?
You know, I've been online for decades now and have really gotten used to looking at only what I want to see on the sites, so I had never looked at those ads until you just asked me to.  Apparently I need a credit card, since I've never had one, there's 365 things I need to do in Brooklyn before I die, and I should join a bowling league.  Oh and I need to enter a contest to win love. I thought love was a battlefield, what is this about contests? 
[Ed. Note: those are all hauntingly accurate.]
What is your history with comedy: live, video, and divine? 
I like funny things.  Have all my life.  Really, spent a vast majority of my time on this planet so far laughing.  As for specifically working in it, I met a lot of immensely talented and funny people at college who needed help shooting their videos.  Been doing that ever since.  I also do a lot of freelance work here in New York and have had the pleasure of making Zach Galifianakis fly, Eugene Mirman time travel, John Gemberling and Curtis Gwinn save the internet, and have been working with The Onion on their many web series' for the past four years now.  In fact, I'm doing this interview during lunch of a shoot for them RIGHT NOW!
How has your experience on The Onion informed your work in comedy, and in love? 
Its taught me a lot not so much about comedy, but more in how to create top notch entertainment on a low budget.  Seeing as The Moon is free, the information has been vital.  As for love, I got into comedy for the ladies, and so far, so good.
Do you consider yourself a ladies man or a man's man? 
Wow, I need to start reading the future questions before answering the previous ones. Anyway, I consider myself a human man.  I could always also go for a good make out session.  I love ladies, not just romantically though.  I've always needed to have solid female friends in my life. [Ed. note: better than liquid female friends, I 'spose]  Gives me a different perspective on things.  Plus they're so pretty to look at when having conversations.  But I also grow a hell of a beard, so I'm definitely a man's man as well. [Ed. note: too bad, you chose 'human man' and that's that]
What is your favorite thing about New York in the winter?
When it snows a ton and no one is out on the streets.  It's really amazing to be in such a busy city when it stops being busy.
What is your favorite thing about me in the winter?
Your koala sweater.
Mine too. You went to Southeast Asia for a long time last summer. Tell me one way in which your entire life changed for better or worse as a result?
It reinforced a long standing thought I had that I work really well in the moment, trusting my instincts and just going on adventures.  
So you learned nothing. Cool. If you weren't already a video production guru and a world class chef, what would you be?
I would give up everything to go back and take school a tad more seriously in the past so that I could be a quantum physicist or astronomer.  Space is the place.  I'm obsessed.  Others look at porn or pictures of cats when they surf the net.  I read articles about string theory and black holes.  Oh wait, that last one is my top linked porn site. [Ed. note: Hey-Ooh! BAM!]
If you could eat a sandwich with any celebrity alive or dead, what sandwich would it be?
I would want to eat a turkey, cheddar, hummus, and avocado sandwich on olive loaf bread with Douglas Adams.  That man enjoyed a good sandwich.
James also writes a blog with Brendan Walsh called Dear Movies in which they write letters to movies. Very Po-Mo. (That is to say Post-Modern, not poor homosexual, though I would hear that argument out.) His beard waxes and wanes like the moon cycles, and by that I mean both the show and the celestial body. 
 by Jordan Clifford
---
There are three adjectives I would use to describe you. Young! Silly! and Camille! But you're already using those as the title of your show and website, "Camille! Young! Silly!" Can you give me three other adjectives, or one noun and two adjectives? Explain.
I'd say: Thoughtful, inclusive and fun. The explanation is that I love my family.
That should always be your explanation for everything. How young were you when you realized you were silly, and how silly were you?
Good question. I think most people aren't aware of how silly they actually are. For example, this guy at the coffee shop today got angry because they didn't take the foam off his latte. AND he didn't say please. That's completely silly. It's not like he's extremely allergic to dairy (like some of us here) and they got his milk wrong or anything and his tongue was swelling up (Hello!?! Actually happened last summer!). He was acting like a 5 year old. Those fivers are pretty ridiculous. Who doesn't say please when they order? What grown-up can consider themselves a responsible adult if they don't say please? He hasn't realized that he is silly yet.
I was six and I was very silly when I realized it. I pretended to fall down so people would laugh. I was in Ms. Schwenker's class at Douglass Elementary. 
The words "silly" and "jazz" don't often go together, unless someone who thinks jazz is silly is talking about jazz. Can you explain what you mean by calling your music "silly jazz," and tell me about the development of this genre? 
I definitely didn't develop this genre, but I might have come up with the name. It wasn't until after I started writing songs about the Muffin Man, The Monster Under my Bed, Commie Kindergartners and other silly things that I realized that there were SO many more people who do what I do. For example, I love Nelly McKay. She has some pretty silly jazz songs, but I didn't know who she was until I had written "The Muffin Man" and everyone started asking me if I knew who she was. Of course, Tom Lehrer would be considered to be a silly jazz artist as well as Ella Fitzgerald. She wrote "A-Tisket, A-Tasket" and that is a pretty silly jazz song. Goldrich and Heisler wrote "Taylor the Latte Boy". I call that silly jazz. 
But, as I said, I wasn't fully influenced by these people until after I started writing my own stuff. I always have loved jazz music and theory and I went to vocal jazz camp, so my melodies and changes are a direct result of my jazz studies. I'd like to think that the melodies are better than the lyrics, although I do love my puns. It's silly jazz because it's silly and it's jazz. Duh. I don't make very many raunchy jokes. So it's not "raunchy jazz." I'm no Charles Mingus. Have you read his auto-biography? 
[I'll read any biography that is recommended on its raunch.]
You're on The Moon, a fabulous comedy variety show of great renown, and that must be awesome. Have you had any comedy experience in the past, and do you think of yourself as a comedy performer?
I always thought The Moon was a variety show and I was the variety? I have played my songs around at different shows and my solo show is mostly comedy. I mean, I've taken improv classes and I have done characters that were comedic. So, yes. I do claim comedian in my elevator speech.
I just learned today what an elevator speech is. Cool. So what place to you think comedy has in music and vice versa? 
I think that music and laughter are our most basic needs as humans. And we need water and sustenance.
You wrote a musical based on "The Muffin Man." I'm not familiar with the man, but I love his product. What about muffins inspired you to write a whole musical and why do they only inspire me to eat more muffins?
It wasn't the muffins. I can't eat most muffins unless they are dairy-free, it was the nursery rhyme that got me thinking. I guess I like muffins. I prefer my own scones.
What, if anything, do you do when you're not on or thinking about being on The Moon?
I teach piano, write, and perform my songs. And I help people produce things like music videos and PSA's. I also read.
That last thing is where you and Kanye West differ, I suppose. A lot of your time (with me) is spent with and/or talking about babies and dogs. Tell me something about a baby you know.
I don't think we've ever been together with a baby before. But I always tell you about babies. This one I know wants to crawl soooo badly! But she can't yet so she just belly flops a lot.
Now tell me something about a dog you saw.
Oh my gosh! He was so cute! A little fluff ball with a dog cone because of all his hot spots. He is so allergic! But so adorable! He gets one Benadryl in his food at dinner. Floopy ears and curly hair!
Great.
Camille Harris is a MoonKid and a musician/singer at large. 
---
Some Pretty Okay Questions is a new feature on The Moon Show Dot Com where I, your question master Jordan Clifford, will be asking some pretty okay questions to some pretty amazing performers who will be on our next show. So here are…
Some Pretty Okay Questions for Kurt Braunohler
Hey Kurt, what's up?
Yeah right. 
(Wait was that sarcastic? I can never tell in email form.)

Well anyway. You've talked a lot in your act about how much fun it is to edit Wikipedia pages, and really stick it to those fools at Wikipedia for making a public encyclopedia. But are you at all concerned now, with the popularity of WikiLeaks, that you'll be imprisoned for your actions?
No. Unless Parakeets have access to police. And could read. And could care about anything other than hopping. Because parakeets are the only animals I really "give it to" on Wikipedia, if you know what I mean.

Your Wikipedia page says you're best known for your work as Kristen Schaal. How did come up the idea for Kristen Schaal?
It does? No it doesn't. I just checked. But Kristen was a fever dream I had when after I saw Watership Down.

[Ed. note: It does now] 
You've been to Edinburgh a few times. And probably a few other places. The only time I've been out of the country was to go to Israel for Birthright, which was questionable in the first place. Oh and also to Montreal to visit a friend who didn't want to go see strippers, but that's a whole other thing. Is Edinburgh like that, and what's YOUR favorite place to travel for comedy and why?
Edinburgh IS a lot like that. And my favorite place to do comedy is either right here in Brooklyn or San Francisco. They're tied for most fun.

You were born in Neptune, New Jersey. Do you think that the cast of The Jersey Shore is giving Italian-Americans a bad name, which is to say, a worse name?
Nope. I think it's giving them the right name. The name they've had all along. 

Did kids in school ever ridicule your name? College must have been tough.
They did, but no one ever went for the best insult, which is "Brown Holer" or Brown Hole. The best they came up with was Granoler. Lame. Also, what college did you go to that there were bullies? You must have been very ugly and awkward.

[Ed. note: I like that there are only quotes around "Brown Holer." And also, yes, I was, but thank God that changed.]

You love to tweet. So I guess my first question about Twitter is 'what is Twitter?'
I love to tweet? I wouldn't say that. I'd say I like constant attention.

Is your Twitter anything like Sh*t My Dad Says the tv show? If not, why not? If yes, explain.
It's exactly like that but it's things that I said. So it's like "Things A Hopefully Future Dad Says"

Sometimes you tweet jokes before you use them live. Do you think that is risky to put actual material out there where a handful of people might read it? 
Nope. You can't be precious. It's just jokes. I'll make more. Also, It's a good test of whether it would work for the stage. And I've never had a problem on stage where someone is like "Read that on Twitter, NOT LAUGHING!" I used to be precious with it, but then I realized that NO ONE KNOWS WHO I AM OR GIVES A SHIT. Once I'm mildly famous, maybe I'll change my mind, but right now, the more people who see me making jokes, the better, I think.

My favorite Twitter hashtag is #uptonogood, which I saw on a subway poster for the Oxygen TV show Bad Girls Club. What is yours? (For the record I'm also a fan of your own #markwhaleberg)
I made one that was #underwater90spunkbands that was really fun and took of a little. I think my favorite one from that was "Shudder to Sink."

There's a guy on Twitter named BrendanJordan. I have an identical twin brother named Brendan, and my name is of course Jordan. Weird, right? What do you suggest I do about it, and has anything like that happened to you?
Fucking kill him.

[Ed. note: Done. Nuke 'em.]
That concludes the Twitter portion of the interview. What is your most sincere resolution in '011? 
To quit things in general.
Do you have a crush on anyone?
I get really intense crushes for like 10 minutes at a time. So, yes. 

Do you have any questions for me? 
So many, but I'll just ask you tonight in person.
To be continued?????
Kurt Braunohler is the co-host of Hot Tub with Kurt and Kristen, and you can see his new monthly live late night talk show, "Night of the Living with Kurt Braunohler"  starting Feb 4th at 11pm at the new PIT.
by Jordan Clifford




 
---